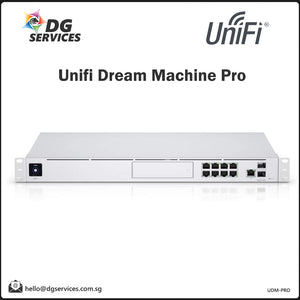 UniFi Dream Machine Pro
Regular price
Sale price
$727.00
---
🅳🅶 🆂🅴🆁🆅🅸🅲🅴🆂 🇸🇬

✴️ A high-performance access point that brings powerful, four-stream WiFi 6 coverage to enterprise networks.

✅ Runs every UniFi OS application, including the pre-installed UniFi Network
✅ 8-port switch with 1GbE RJ45 and 10G SFP+ ports
✅ Integrated security gateway and UniFi Protect-ready network video recorder that supports compatible 3.5" HDDs
✅ Enterprise-class internet threat management, deep packet inspection, and WiFi AI functionality
✅ Powered by a fast, 1.7 GHz quad-core processor
✅ 1U-sized, rack-mountable console
✅ Allows you to easily scale your deployment by connecting additional UniFi devices
✅ Connect a USP RPS to create an uninterruptible network
All-in-one enterprise security gateway & network appliance for small to medium-sized businesses. The optimal experience for larger networks.
UniFi Dream Machine Pro (UDM-Pro) is an all-in-one enterprise network appliance. UDM-Pro integrates all current and upcoming UniFi controllers with a security gateway, 10G SFP+ WAN, 8-port Gbps switch and off-the-shelf 3.5" HDD support.



All-in-one 1U rack appliance for small to medium sized businesses
Combines new UniFi OS with 8-port switch and security gateway
UniFi Protect video surveillance NVR with off-the-shelf 3.5" HDD support
8-port Gigabit Switch with 1 Gbps RJ45 and 10G SFP+ LAN
Enterprise-class IPS/IDS, DPI, and Wi-Fi AI capabilities
Powered by fast 1.7 GHz quad-core processor
Works with new UniFi OS
Centralized application management. All current and upcoming controllers combined into one interface
Shared user and access management with role assignments and group management
Enhanced Cloud portal with simple remote access to UniFi OS
The Best Experience for Large Networks
All-in-one 1U rack appliance for small to medium size businesses
The enterprise-class security gateway combines routing, 10 Gbps SFP+ WAN, application visibility, VPN services, and 3.5 Gbps full threat management throughput into a single device.
Advanced
Firewall with VPN
DPI: Deep
Packet Inspection
IPS/IDS - Intrusion
Prevention System
3.5 Gbps IDS/IPS
Throughput
Fully managed switch with 10 Gbps SFP+ downlink
and eight RJ45 GbE ports for scaling up.
8 x 1 Gbps RJ45
Switch Ports 
Advanced
Layer 2 Features
Integrated network management system for all network elements with an easy-to-use and modern user interface. Wi-Fi AI automatically optimizes the Wi-Fi network.
Intuitive
User Interface
Professional-grade video surveillance system
and NVR with integrated 3.5"/2.5" HDD bay for scalable storage.
Intuitive
User Interface
UniFi Enterprise Architecture Evolves with UniFi OS
The new UniFi Cloud portal provides simple access to all controllers and an increasing number of UniFi applications.
Network
Controller
Protect
Controller
Access
Controller
Seamless Network Integration
Use the UniFi Dream Machine Pro as your network controller.
TECHNICAL SPECIFICATIONS
Interfaces
(8) 10/100/1000 RJ45 LAN Ports(1) 10/100/1000 RJ45 WAN Port(1) 1/10G SFP+ LAN Port(1) 1/10G SFP+ WAN Port
Management Interfaces
Ethernet In-Band(1) Bluetooth BLE
Technical Information
IDS/IPS Throughput: 3.5 Gbps *Processor: Quad ARM Cortex-A57 Core at 1.7 GHzSystem Memory: 4 GB DDR4On-Board Flash Storage: 16 GB eMMC* Measured with iPerf3.
Environment
Operating Temperature: -10° to 40° C (14° to 104° F)Operating Humidity: 5 to 95% Noncondensing
Power
Max. Power Consumption: 33WVoltage Range: 100 to 240VACPower Method: (1) Universal AC Input, 100-240VAC, 50/60 HzRedundant Power: (1) RPS DC InputPower Supply: Internal 50W/12VESD/EMP Protection: Air: ± 16 kV, Contact: ± 12 kV
Certifications
CE, FCC, IC
DIMENSIONS
Width x Height x Depth: 442.4 x 43.7 x 285.6 mm (17.42 x 1.72 x 11.24")
Weight: 3.90 kg (8.60 lb)
With Mounting Kits: 3.99 kg (8.80 lb)