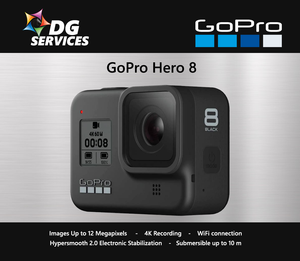 GoPro Hero 8 Black
Regular price
$459.00
Sale price
$455.00
---
GoPro Hero 8 Black
Modification system - Hypersmooth 2.0 - 12MP images - Up to 4K video resolution - LiveBurst burst system - TimeWarp 2.0 video - SuperPhoto mode - Small size - Water resistance 10 M - Integrated mounting system - WiFi - Voice commands - Photo modes
GoPro Hero 8: we already have the new model of one of the most beloved action cameras at PowerPlanetOnline.

With a lower weight than its previous model and the same resistance, this camera will allow you to make your wildest adventures known to everyone thanks to its recording and connection capacity. You'll discover that everything is more interesting with your new GoPro.
Spectacular videos and photos
The new GoPro models are designed to offer the same high quality that the brand has offered since its start. The new GoPro Hero 8 Black enhances all the features that its previous models and its quality is even superior.
Images Up to 12 Megapixels
If you want to take spectacular photographs, this new camera achieves images of up to 12 MP allowing you to take professional photographs in the most diverse and spectacular situations.
4K Recording
If what you want is to make an incredible video, this model allows you to record videos with spectacular qualities. Get up to 4K video quality, one of the highest at the moment. Enjoy your most spectacular adventures.
You can record them on an SD card and even the new GoPro camera allows you to broadcast live thanks to its WiFi connection and the ability to broadcast directly on Facebook Life. Stream live your next descent or the next wave you're going to catch!
An Enhanced Model
This new GoPro model is improved at all levels. The new GoPro Hero 8 Black is created weighing less than previous models. With a weight of only 126 gr, this new revision has an integrated mounting system, thus achieving a model 14% lighter than the previous model with the casing.
Hypersmooth 2.0 Electronic Stabilization
Also, if we focus on its evolution in the software, this model has the new Hypersmooth 2.0 system, which now allows you to give your photographs electronic stabilization to the material in any image quality and at any frame rate per second.
With its boost mode you can also get more stabilization, still having a spectacular image. It also has the options of field of view of the lens updated to: narrow, linear to 24.4 mm, wide to 16.5 mm and SuperView to 15.1 mm.
Several Photo and Video Modes
And, as specific functions of this model, it has several modes: SuperPhoto, mode that intelligently applies HDR, local tone mapping or noise reduction to optimize your shots; TimeWarp 2.0 video, which allows you to capture super-stabilized time-lapse videos while you move, being able to convert the longest activities into compatible moments; and has a LiveBurst mode, which allows you to record 1.5 seconds before and 1.5 seconds after shooting so you can choose the best photo or make a short video with these frames.
Gopro 8 is a camera designed for adventure, but it will also give us the best recording quality in any circumstance.
Modular System to Add Extra Features
The new GoPro Hero 8 Black is designed with a completely new modular system. Thanks to this system, you can add extra functions such as a lighting system, an additional microphone and a secondary display for Vlogs.
14 Voice Commands
You will be able to add several modifiers at the same time, being able to adapt perfectly to you. In addition, this new GoPro model maintains the essence of previous models thanks to features such as water resistance up to 10 meters and has the option of using up to 14 voice commands in Spanish.
Ask for the best picture of your new GoPro Hero 8 Black that you will find only at PowerPlanetOnline!
Buy GoPro Hero 8 Black at Powerplanetonline
If you decide to buy the Gopro Hero 8 at Powerplanetonline we offer 24-hour shipping and a 2-year warranty. The best service, the best price.
Features GoPro Hero 8 Black:
Predict your movements and correct fast-paced images to give you smooth video. As if you were using a stabilizer but integrated into your camera thanks to the

 

new Hypersmooth 2.0
Share videos in real time with Facebook Live easily with its

 

WiFi connection.
Control the camera with

 

voice commands. It can take a picture or record video without having to touch it.
Apply HDR mode, local tone mapping, or noise reduction to optimize shots. It has several modes to take spectacular pictures and videos such as

 

SuperPhoto

 

mode and various modes of photography.
Submersible up to 10 m. Prepared for any adventure.
Technical specifications GoPro Hero 8 Black:
Brand: GoPro
Model: GoPro Hero 8
Design:

Waterproof: 10 meters (without housing)
Built-in microphone
Built-in speaker

Screen:

2 inch touch screen
Front LCD panel

Camera:

Advanced video stabilization
Resolution: 12 MP
RAW and HDR photo capture

Video resolutions:

4K at 60fps
2.7K at 120fps
1440p at 120 fps
1080p at 240 fps
Burst Mode: Yes

Aspect Ratio:
Connectivity:

WiFi: Yes
Bluetooth: Yes
Voice control
GPS: Yes

Interface:

1 x USB 2.0 Type C
1 x Micro-HDMI (Type D)
Headphone input: no

Battery:

Type: 1220 mAh
Charge via AC or USB adapter

Dimensions and weight

Weight: 126 grams (approximately)
Dimensions: 62.3 x 44.9 x 33, mm
Color: black
Package content
1 x GoPro Hero 8 Black
1 x Rechargeable Battery
1 x Curved Adhesive Holder
1 x Mounting Buckle
1 x USB-C cable
1 x Hitch Screw